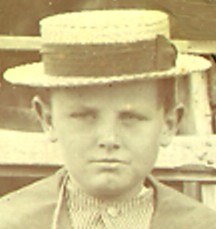 William Herbert Felstead
(Abt 1895-1971)
Family Links
Spouses/Children:
Private

William Herbert Felstead 2 3
Marriage: Private in 1923 in Victoria 1
Died: 1971, St Leonards, NSW 6
Another name for William was Bill.

General Notes:
From MS album - looks about 10 in 1900

Chronology:
He worked as a Lieutenant AIF from 1914 to 1919. 7
He worked as an Agent in 1934 and resided at 16 Sailor Bay Rd, North Sydney. 8

William married Private

---
1 Ancestry.com Online Census and BMD, www.ancestry.com, Young Public Tree.
2 Web (Misc), Email TP Aug 2012. William Herbert Felstead died in 1971 40563/1971 at St Leonards NSW. He was married to Phyllis Donaldson who died in 1970 at Mosman. They had 3 children:- Donald William, Heather Tweedale & Rosemary Shaw Grant. All are deceased.
.
3 Family Tree - Bob Summers 2003.
4 Photo Albums Digital images stored in Albums folder, Album 6 - 004.
5 FreeBMD Online Index of BMD, England & Wales, www.freebmd.org.uk, Birth. Births Mar 1895
Felstead William Herbert Barnet 3a280.

6 Registry of Births Deaths and Marriages, NSW (Online), www.bdm.nsw.gov.au/familyHistory/familyHistory.htm, 40563/1971 FELSTEAD WILLIAM HERBERT THEOPHILAS PINE EVA ST LEONARDS
.

7 Web (Misc), http://www.aif.adfa.edu.au:8080/showPerson?pid=95711. Regimental number 195
Religion Congregational
Occupation Warehouseman
Address Box 2105, GPO, Sydney, New South Wales
Marital status Single
Age at embarkation 19
Next of kin Father, Theo. Felstead, 197 Clarence Street, Sydney, New South Wales
Previous military service 4th AGA
Enlistment date 24 August 1914
Rank on enlistment Bombardier
Unit name Field Artillery Brigade 1, Battery 2
AWM Embarkation Roll number 13/29/1
Embarkation details Unit embarked from Sydney, New South Wales, on board Transport A8 Argyllshire on 18 October 1914
Regimental number from Nominal Roll Commissioned
Rank from Nominal Roll Lieutenant
Unit from Nominal Roll 4th Division Artillery
Fate Returned to Australia 5 April 1919.

8 Ancestry.com Online Census and BMD, www.ancestry.com, ER.