Family Links
Spouses/Children:
Mabel Doar

Frederick Joseph Beresford 2
Born: 2 Jan 1898, 107 Wollaton Rd, Beeston 2
Marriage: Mabel Doar on 7 Jun 1924 in Beeston Parish Church, Notts 1
Died: 24 Jun 1992, Melbourne, Australia
Buried: 30 Jun 1992, Springvale Necropolis, Melbourne 5

General Notes:
"Whittaker" was on the doormat when FJB was a child - he wondered what it meant [KB 2004]

Chronology:
He resided on 7 Jun 1924 in 107 Wollaton Rd, Beeston.
He worked as a Colliery Clerk on 7 Jun 1924.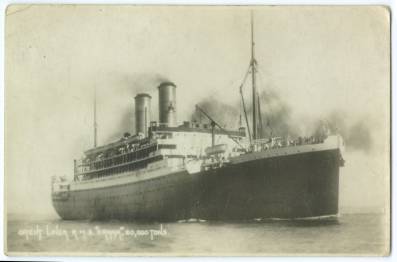 He emigrated on 5 Mar 1927 from From England To Australia On "Orama".
He resided as the home of George Poole, uncle of Mabel's grandfather's maid Mary Atkin about Mar 1927 in Stratford, Victoria. 6
He resided as rooms for four or five months about Jun 1927 in Toorak, Melbourne.
He resided as 29 Mavho St, between 1928 and 1991 in Bentleigh, Vic.
He resided as Freemasons' Nursing Home in 1992 in Prahran, Melbourne.
He worked as an Errand Boy in 1911 and resided at 107 Wollaton Rd, Beeston. 7

Frederick married Mabel Doar, daughter of Frederick William Doar and Annie Elizabeth Kirkby, on 7 Jun 1924 in Beeston Parish Church, Notts.1 (Mabel Doar was born on 17 Jan 1903 in "Nottingham House", High Rd, Beeston, Nottinghamshire, United Kingdom 2, christened on 1 Mar 1903 in Beeston Parish Church, Notts,8 died on 26 Mar 1992 in Melbourne, Australia and was buried on 30 Mar 1992 in Springvale Necropolis, Melbourne 9.)