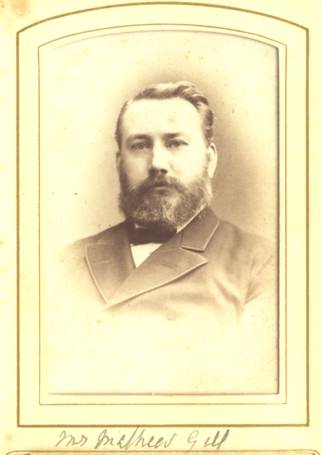 Matthew Gill
(Cal 1841-1891)
Matthew Gill
Born: Cal 1841, Ireland 1
Marriage: Eglantine Lilias Spence before 1881 1

General Notes:
From Melbourne the Shoves went to Ballarat where Andrew established himself as a baker, storekeeper, and later as licensee of the Eureka Hotel in Eureka Street, Ballarat .<br /><br />Annie Shove and some of her sisters went to Melbourne to find work as domestic servants. Annie obtained a position with the family of James Gill of Gill, Fowler and Co., Merchants, of 13 Little Collins Street West, Melbourne, at their home in Dandenong Road, Saint Kilda.


1866 Victorian Postal Directory 1866 has Gill, Fowler and Co at 13 Little Collins West - 2 yrs later to become Alfred Shaw & Co premises and about that time Matthew Gill was employee of AH Shaw

Photo in Lavinia's album.

Note a that a "J Gill" owns a small house in William St close by the Shaws (1873 Vardy plan)

Another copy of the photo has "Mr G 1883" and is a London Photographer. Did MG run AHS London branch? YES
From AHS notes ".... When the gold rush broke out in New Zealand, the country branches were sold and others opened in Dunedin and Hokitika under the charge of Mr.M.Gill, formerly an employee in the Elizabeth-street business. In 1867 Mr.Shaw disposed of his retail business in that street and Mr.Henry Hughes joined the firm in the same year. Mr. Shaw proceeded to London to buy stock and returned early in 1868. The growth of the business rendered it needful to establish a London office, which Mr. Shaw opened at 72 Gracechurch-street in 1872. The New Zealand businesses were wound up and Mr. Gill took charge of the London office. ...."

This seems the only possibility from VIC BDM ...
Family Name: GILL Given Name(s): Matthew Sex: Unknown Event: MARRIAGE Father's Name: Mother's Name: Spouse's Family Name: GROSSMAN Spouse's Given Name(s): Rosanna Age: Birth Place: WURTEMBERG Death Place: Registration Year: 1867 Registration Number: 3959

1881 Census
Name: Matthew Gill Age: 40 Estimated birth year: abt 1841 Relation: Head Spouse's name: Eglantine Gender: Male Where Born: Ireland Civil parish: St Pancras County/Island: London Country: England Street address: 3 Haverstock Hill Condition as to marriage: Married
Occupation: Australian Merch Registration district: Pancras Sub registration district: Kentish Town ED, institution, or vessel: 8 Neighbors:
Household Members:
Name Age Eglantine Gill 28 Matthew Gill 40 Elizabeth Wheeler 19


Chronology:
He worked as a Hardware Merchant in 1881 and resided at Haverstock Hill, London. 4 (with wife Eglantina and next door to Haverstock Hill Congregational Chapel)

Matthew married Eglantine Lilias Spence before 1881.1 (Eglantine Lilias Spence was born Cal 1853 in Orkney Islands, Scotland and died in 1941 in Camberwell, Melbourne 5.)

---
1 Ancestry.com Online Census and BMD, www.ancestry.com, 1881C UK.
2 Ancestry.com Online Census and BMD, www.ancestry.com, Based on wife alone in 1903 and photo with London 1883 caption.
3 FreeBMD Online Index of BMD, England & Wales, www.freebmd.org.uk, Deaths Mar 1891
Gill Matthew 50 Edmonton 3a 173

This looks very likely - the age is correct and and there is also the connection to Hornsey (Alfred Shaw's residence was Crouch End at the time of his marriage - was he staying with the Gills).
4 Ancestry.com Online Census and BMD, www.ancestry.com, 1881C.
5 Registry of Births Deaths & Marriages (Victoria) - Certificate, http://online.justice.vic.gov.au/bdm/home, Family Name: GILL
Given Name(s): Eglantine Lilies
Sex: Unknown
Event: DEATH
Father's Name: Spence Wm
Mother's Name: UNKNOWN - Unknown
Spouse's Family Name:
Spouse's Given Name(s):
Age: 87
Birth Place:
Death Place: Cwell
Registration Year: 1941
Registration Number: 80.