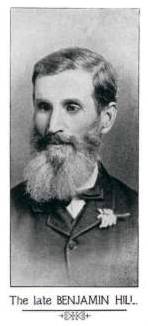 Benjamin Hill
(Cal 1827-After 1884)
Benjamin Hill
Born: Cal 1827, Kidderminster, Worcestshire 1
Marriage: Mary Pett in Jul 1863 in Maryborough, Victoria 1
Died: After 1884 2

General Notes:
As an ironmonger he was possibly an employee of Alfred Shaw. He also lived very close th the Shaws. Blenheim St is now the extension of William St on the north side of Carlisle St. There are photos of his children Emma, "Ernie" and Mabel in the Shaw albums.

A member of St Kilda Churches of Christ with A Shaw?

Chronology:
He resided in 1869 in (no entry in S&M). 3
He resided in 1873 in Blenheim St, Carlisle St, St K. 3 Mutiple entries in 1873 -
- Little William St
- (Proctor & Hill) High St, St Kilda
In 1876 he was an Ironmonger living in Blenheim St, St Kilda which is the extension of William St, Balaclava.

Benjamin married Mary Pett in Jul 1863 in Maryborough, Victoria.1 (Mary Pett was born Cal 1835 in London, England 1.)

---
1 Registry of Births Deaths & Marriages (Victoria) - Certificate, http://online.justice.vic.gov.au/bdm/home, Birth MAH 1876.
2 Web (Misc), http://www.mun.ca/rels/restmov/digital/jph/JPH294.HTM.
3 Sands & McDougall Melbourne Directories, State Library of Victoria MF.